Monday, 16 June 2008
23:19 | Posted by Wiola Grabowska
|
Edit Post
Our today's session was very successful and I must say I am impressed with his improvement. I wouldn't say he is the cleverest of horses but he does try to understand and you can almost hear his brain cells working!
Getting ready: hmm, I think I spotted an unattended polo...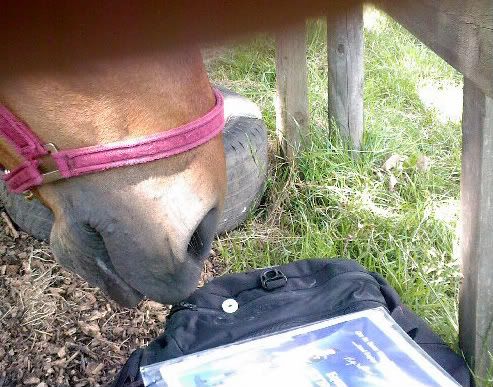 After the ride: all tired :)
I rode with some classical music in my ears today and it worked wonders. I seem to focus more when riding with music. It's almost as if the creative/feeling part of my brain gets switched off with double power.
We worked a lot on bending today and I asked him to flex his neck a lot both ways without drifting from the straight lines. He definitely improved on this since last time and didn't try to turn even once. His stiffer right side still need a lot more work than the left side.
Transitions were generally better too with more quality to downwards ones than at last session. I challenged him today with plenty of changes of rein across diagonals and half circles in trot and worked on him taking the outside contact.
He strongly evades me on the right rein which unfortunately is my weaker side and I don't progress there as much as I would wish. He still felt easier today than a fortnight ago so some messages must be getting through!
And some more pictures from today, all thanks to Helen who arrived just a minute before I was due to finish and snapped us coming back from the field :)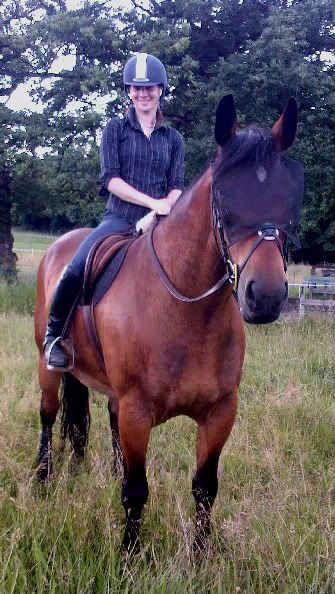 And this is what Columbus always does after I spend some time sponging him down:
PREFACE
Hi, my name is Columbus and up until July 2007 I didn't really have to do much. I know I am a rare breed i.e. I am special and so everybody should treat me like a king. I mean, I spend all days with two nice Connemara ladies; we chat, eat and enjoy life! What more could one want!
I am an easy going chap but if I don't understand something I can get stroppy and will let you know I am not quite happy, that is for sure.
I have great owners but Lady Owner (who also owns this nice grey mare -Rosie- I share my field with) decided she wanted some lessons and so I somehow got involved.
I was not overly happy with my first training session but then my Owners got a little more involved. I started getting more attention and I figured that this whole training might not be too bad...Then I heard
Wiola
saying I have 'presence' and 'could be great with a bit of training' so I thought I would participate in this circus...for now!
Wiola decided to keep this diary to record my progress. Well, I won't be arguing...